About Review Crew
Book & Media Reviews by Teens
Review Crew began as an initiative to help Sharon teens virtually fulfill community service requirements during the height of the COVID-19 pandemic. It continues now as a means for teens to practice writing skills and share their love of reading with peers.
Local teens ages 13-17 sign up to read, listen to, or otherwise enjoy books and media - and then submit reviews. Reviews are posted on a rolling basis and are aimed at tweens and teens looking for their next great read!
Interested in becoming a reviewer? Fill out a volunteer application. Already a volunteer? Start reviewing here!
---
Books for Tweens
Reviewer: Angela Tun
Join an action packed adventure with Benjamin Ripley, a young spy-in-training at the CIA's "Spy School", as he's on the run after his arch nemesis, Murray Hill, initiates "Project X" in a desperate attempt to eliminate Ben after having having many of his notoriously evil plans thwarted by none other than Ben himself. With every assassin from all walks of life after Ben's head for a 20 million dollar bounty and conspiracy theorists believing he's a shape-shifting lizard plotting to take over the world, can Ben and his friends get Murray to call off "Project X"?
Spy School Project X, the tenth book in the bestselling series Spy School, is an epic where there's no easy way out, constant obstacles, false glimmers of hope, and, most importantly, humor throughout the entire book. This book has something for many different types of audiences. If you're not a huge fan of spy thrillers maybe this isn't the right book for you, but if you do enjoy the thrill of narrow escapes, epic chase scenes, and nunchuck wielding grandpas, this is a book you are certain to enjoy especially if you enjoyed the previous books in this series. While the characters in this book are all mostly CIA agents which the reader probably won't find relatable, the internal struggles of the characters and the "normal" aspects of their lives are certainly relatable to many people. In Stuart Gibbs' later books in this series he makes some real world connections such as the conspiracy theories that spread like wildfire on the internet.
Heavily inspired by the iconic Agent 007, as you may know more commonly as James Bond, readers who enjoyed the Spy School series in total will find sanctuary absorbing the scenes of James Bond movies such as Mission Impossible, and Goldfinger, among other James Bond productions. City Spies is also an incredible series following a group of young recruited MI6 agents from all around the world as they work to thwart sinister schemes in various destinations all around the globe such as Paris, San Francisco, and Beijing. Word has it that the latest book is to take place in Cairo.
---
---
Books for Teens
Reviewer: Angel Liang
You've Reached Sam is a YA novel written by Asian American author Dustin Thao. This angsty book is set in a high school: Julie has recently lost her boyfriend Sam in a road accident, Deperate to cling to him, Julie called his phone numer. Here is where the magic happens: somehow Sam picks up, and Julie is given another chance to talk to him.
This book will tug on your heartstrings and is guaranteed to make you shed some tears. It guides the reader through Julie's stages of grief where she makes mistakes, rebuilds bridges, and finds a way to move on without the love of her life. A perfect book for young adult readers: not too much romance or fantasy, just enough to make it feel realistic.
Great for fans of Adam Silvera's They Both Die at the End (and its prequel) as well as lovers of realistic romances with a hint of the paranormal.
---
Reviewer: Jessica Daniel
Father Emilio Sandoz returns from his trip to the alien planet Rakhat as a broken man after experiencing unspeakable trauma and loss. Now, on Earth, Emilio is reviled and hated by the masses, especially after accusations of prostitution and murder come to light. Emilio refuses to defend himself, and everyone else who accompanied him on the journey to Rakhat has died. What truly happened on Rakhat is a mystery—one that Father Giuliani and his compatriots must solve if they want to save the reputation of the Jesuit Society and Emilio himself.
The Sparrow is a well executed book in my opinion. It brings up religious topics and themes without being preachy or simplistic. The events of the novel take place over two timelines; one begins around 2020 and chronicles Emilio and his friends' lives before and on Rakhat, and the other takes place about 60 years after, once Emilio has returned to Earth alone. The author builds up a lot of suspense, and that made it a little frustrating to get through, but I think the pay-off for the tension was good. I think my main criticism of the novel is that the characters sometimes lack depth.
I would recommend this book to people who enjoy suspenseful and thought-provoking novels. However, before reading this book, I would also strongly suggest searching up trigger warnings for the novel if needed.
---
Reviewer: Jessica Daniel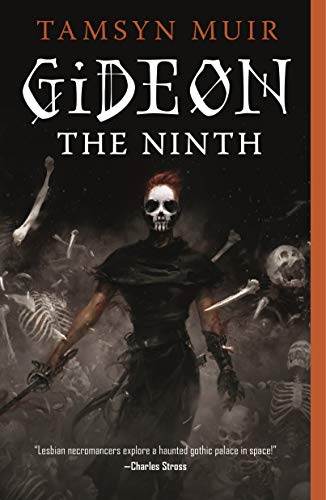 Gideon Nav wants nothing more than to leave her life as an indentured servant of the Ninth House behind. Unfortunately for Gideon, Harrowhark Nonagesimus, the Reverend Daughter of the Ninth House (and Gideon's childhood nemesis), has other ideas. The two of them make a deal: if Gideon helps Harrow achieve Lyctorhood as Harrow's cavalier, Gideon has full permission to leave the ossifying remains of the Ninth behind forever.
The first half of Gideon the Ninth was somewhat slow, but I was definitely invested by the end of the book. The worldbuilding is very original and creative, but most of it is not at all explained and it takes the reader a while to really understand the meaning of certain terminology and how the magic system works. Overall, I enjoyed the plot and the character dynamics.
I would recommend Gideon the Ninth for people who enjoy descriptive imagery and murder mysteries.
---
Scythe by Neal Shusterman
Reviewer: Angela Tun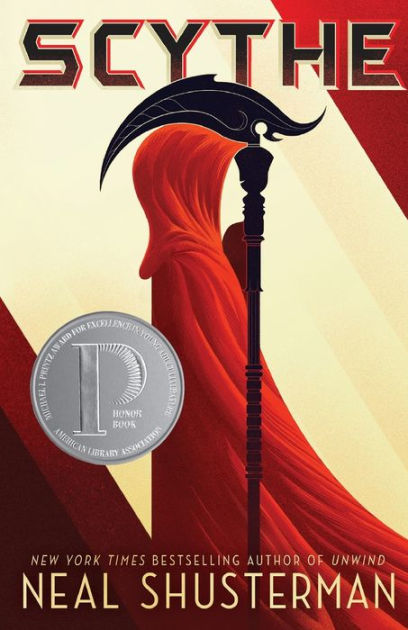 Imagine a perfect world where humans have no way to die. Cancer is harmless, normally fatal diseases are easily healed by nanites in the bloodstream. The only way to die permanently is if a Scythe gleans a person, or in other words, murders them. Two teenagers, Citra Terranova and Rowan Damisch, both being witnesses to gleanings, have their lives completely changed. The Scythe whom they had both met, Scythe Faraday, takes them both as apprentices, which is met with some backlash, and the other Scythes decide that only one of the two teenagers can live. Then out of the blue, Scythe Faraday self-gleans himself.
The characters' emotions are creatively expressed in the book, allowing the reader to fully invest in the plot of the story and feel the plot as it constantly twists and turns. The characters might not be easy to relate to because they live in a wortld where the huge problems of today's world are just an annoying fly in their world. Rowan goes through some very deep character changes, which some readers - readers who enjoy reading about a rebellious maverick - will enjoy in this book and the books that follow.
If you enjoy Scythe, you will most likely enjoy the other books in the series, Thunderhead and The Toll. The Hunger Games novels and movies are also similar to this book with its dystopian setting and looming death.

---